We aim to CONNECT NETWORK,INSPIRE, MOTIVATE, GROW , MULTIPLY and PROPEL start-ups founders and entrepreneurs to success! register now. entrepnegosyo.com!
Mission
Our mission is to create a positive change and a global impact by empowering young Filipino Entrepreneurs/ leaders to take the lead in finding community solutions, working towards a better future for our country.
EntrepNegosyo™ PH provides you with the connections, latest business news, research and technology to promote entrepreneurship literacy, awareness, inclusive growth and nation building.

FB Page: www.facebook.com/entrepnegosyoph and www.facebook.com/emarketcomph
Twitter: www.twitter.com/entrepnegosyo
The Community:
EntrepNegosyo is a Philippine Business community with over 7000 members and fans. We have 10,000 subscribers.
MANILA, Philippines – Starting up a business could be challenging because there would be obstacles along the way. Among the challenges of starting up your own business would be access to lending banks, increases in tax and interest rates, increasing costs, skills shortages, economic volatility and others.
"To overcome obstacles business or personal, you must master these areas: embrace self-awareness, use time to your advantage, commit to focused discipline, engage your own creativity," said Johanson Dy Cheng, founder of EntrepNegosyo.

Having his own business himself, Cheng shares his insights on the advantages of being your own boss rather than being an employee.
1.       You control your own destiny
You are in charge of all the decisions being made in your company. The daily operations of the business are under your hands, "This leads to creating a culture, a brand and an organization," said Cheng. You get to be your own boss and get credit for what you do.
2.       You can find your own work/life balance
Being in-charge of the company's day-to-day operations, you get a hold of your own time. You get to choose where and when to work. You can opt to work from home at the most convenient time for you.
"Your time is yours," Cheng said.
3.       You choose the people who you work with.
"Surround yourself with positive people who give you the confidence and optimism you need to keep moving forward. Weed out the people that put out negative vibes. The smaller your organization, the larger choice you have about who you work with," said Cheng.
Working for someone else would not give you an opportunity to choose who to work with as opposed to having your own business. Rather than working with strangers, being an entrepreneur would give you a chance to even work with your friends or family.
4.       You take on the risk
There is no certainty that the business would succeed once you start one. Every decision you make would have an effect on the business. It's either you lose or gain rewards once you take the risk of starting a business.
"Like every other great game, the more you play, the better you get. You learn to recognize good opportunities from bad ones. You learn how to look like you are committed to new products, without actually financially committing to it until you have feedback and orders from your customers.
"You also learn to create exit strategies for bad situations and how to maximize the good ones. The most fun is to work on a project for several years with your team, overcoming all of the obstacles, and then millions of people enjoy it around the world," shares Cheng.
5.       You can challenge yourself
Working in an office would mean having a daily routine since you have the same tasks every day. Being an entrepreneur would give you the chance to learn something new every day and improve yourself on you chosen career. Every day is an opportunity to challenge yourself.
6.       You can follow your passion
By starting an online Philippine Business Community for Filipino entrepreneurs, Cheng was able to pursue his passion for web and industrial design. Nowadays, it is a rare opportunity work at something that you are passionate for.
7.       You can get things done
Cheng cites social media for being a medium to accomplish tasks faster. Being in the online business, speed is important so as to get an advantage over competitors.
8.       You can connect with your clients as you are the boss.
You get to interact with your clients first-hand as you are in charge of business transactions. For Cheng's case, he gets to connect with clients through EntrepNegosyo.com.
9.       You can give back to your community
Cheng is an active member of the Junior Chamber International Manila, an organization that hones leadership skills of young men. They have projects committed to serve the community as a whole.
10.   You feel pride in building something of your own
You get to do something that you're good at and you get recognized for it. Cheng is proud of being able to put up his own e-commerce website, Emarket.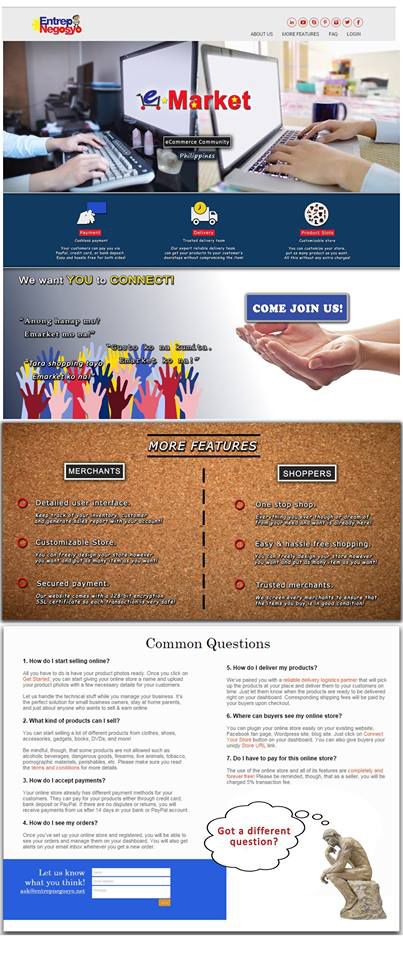 When asked about his advice to those who tried to start a business and failed, Cheng quoted business tycoon Henry Sy, "There is no such thing as overnight success or easy money. If you fail, do not be discouraged; try again. When you do well, do not change your ways. Success is not just good luck: it is a combination of hard work, good credit standing, opportunity, readiness and timing. Success will not last if you do not take care of it."
Cheng is the founder of EntrepNegosyo/Emarket, a website for the Philippine Business Community which provides business news, bulletin, research and technology that promotes entrepreneurship literacy.
JOHANSON DY CHENG graduated from Jubilee Christian Academy in 1996 and from De La Salle University-College of Saint Benilde in 2000, with a Bachelor of Science degree, major in Industrial Design, where he was a consistent honor student. His professional career spans both the private and volunteer sectors. His work in the private sector began immediately upon his graduation from college, when he joined the family-owned House of Accessories, where he assisted in handling inquiries and purchasing of products from different Asian Countries. During this time, he was working simultaneously as a bank trainee with China Banking Corporation, focusing on the analysis of financial statements of companies obtaining loans. For the next 13 years, he worked for banking industry's giants, among them, standard Chartered Bank and Citibank, as he rose from the ranks from trainee to Customer Relationship Manager. The experience paid off as he immersed himself and learned the trade of the banking industry such as preparing sales presentations, with emphasis on budget and product demonstrations; acquiring international private clients; generating new funds and maintaining portfolio profitability; and formulating marketing and selling plans and generated new accounts or the Branch Banking Group with objective of generating profits for the bank through deposit and loan accounts, among other things, which he would later need to establish his own businesses.
In 2005, Johanson started EntrepNegosyo, an information gateway intended for the Philippine Business Community which provides business news, bulletin, research and technology that promotes entrepreneurship literacy. His aim is to create a global impact by empowering young Filipino entrepreneurs to be leaders and take initiative in finding community solutions. A passionate advocate of entrepreneurship, he envisioned the EntrepNegosyo site to be a universal portal where start-up companies can utilize shared resources from partners across the globe. To date, EntrepNegosyo has more than 5,000 start-up and SMEs taking advantage of its easy-to-use portal.
Apart from this, Johanson has also involved himself in several other ventures: As social media and business development head of Philip Leonard Furniture; as Vice-President for Business Information Technology at Real Estate HUB, LLC; and as Sales Representative at AutoKid Group of Companies.
His career in the volunteer sector began in 2000, when he joined Junior Chamber International (JCI) Manila, where he further honed his leadership abilities, becoming chairman for different standing committees and became an invaluable member with his innate desire to be of assistance to everyone.
It was during his years as a member of JCI Manila that he immersed his time in humanitarian aid and development, onsite rescue and relief operations, resource mobilization for healthcare delivery, and bolstering capacities of existing outposts for basic services. He was drawn most to caring for children with disabilities, having realized that it was the most marginalized and ignored groups of children today, most especially those afflicted with cerebral palsy. It was then that he decided to pursue a lifelong mission of uplifting the lives of children with disabilities in the Philippines by creating awareness, educating stakeholders and providing appropriate opportunities for development and a better life.
JOHANSON DY CHENG started his spiritual ministry at a very early age, actively serving as a volunteer for the Christian Bible Church of the Philippines in his local community at Talayan Village in Quezon City. A devout Christian, he has since worked closely with various parishes and charitable institutions, including continuing support for the Christ Commission Fellowship composed by lay men and women who share God's love and the Gospel. Today, much of his ministry has been devoted to children with disabilities. He has made this his life's work, going to hospitals to visit and pray with patients daily after work. He will usually take with him his friends from church and colleagues from JCI Manila to provide comfort and hope to the seriously ill.
Together with his close friends, Johanson has worked on so may projects to help the poorest of the poor, most especially the victims of calamities and disasters. He is a no-nonsense kind of person who takes every mission to save lives and properties very seriously. From one disaster to another – no matter how far or remote the place may be – one can be sure that he will always be there to lend a hand and help the victims. Colleagues have witnessed this many times from the havoc wrought by Typhoon Ondoy to Yolanda and now the conflict in Marawi, Mindanao.
In 2015, Johanson helped organize the "Golden Heart" program for kids with disabilities, together with some friends who share the same passion for children. Through this program, he is focused on helping children with cerebral palsy from the underprivileged and marginalized sectors. Now on its third year, "Golden Heart" has quickly become a catalyst for hope that revitalized the support of the global community in serving this area of human concern. He is now working to connect with JCI Manila's international sister chapters and involve them with this project to reach a new global milestone.
Johanson is like the "energizer bunny" never running out of energy to do whatever he can in a day which seems to be lacking in hours for this workaholic who detests holidays. Johanson seems to have mastered time management to perfection. He sleeps only three to four hours daily as he always is on the go whenever he is called. He spends a lot of his time meeting with his "Golden Heart" team in looking for ways to further reach out to more children.
Having consciously committed to a life of single-blessedness, Johanson has devoted much of his waking hours caring for children not of his own. For all his dedication and hard work, Johanson has earned the love and respect of his peers and of the many people whose lives he has touched. He has been accorded several awards yet he has remained simple and humble all these years.
For the many years which his friends have known Johanson, they have seen how blessed he is with so many good and true friends. Having traveled to many places together, his colleagues are always amazed that he always has friends everywhere they go.
JOHANSON DY CHENG is committed on helping children with cerebral palsy from our underprivileged and marginalized sectors. His long-term plan for"Golden Heart" is to have a beneficiary PWD therapy center or facility that will cater to PWD children. Since this project will be an annual program, every year, he plans to build on the center to the best of his abilities and cater to the different PWD disorders and disabilities. Equipment, medicine and new technologies from global donors will be maintained and managed by the PWD center. The target therapy center will sit on the property of the Center of Excellence in Special Education. In this facility, he plans to hold therapy sessions from doctors of the Philippine General Hospital, the biggest hospital in the Philippines and training for the PWD children for them to become independent and reintegrated into society.
Acknowledging his limitations, fully aware that he is no superman, that his capacity fo service cannot be far-reaching enough, he opted to serve those who cannot help themselves, the children with cerebral palsy. These are the ones whom he hopes could feel the impact of the service he has rendered and whose lives have been changed.
Giving of one's self to be of service is, perhaps, the best work of life. And this, Johanson exempliefies in the kind of life he lives. The kind of life that has been woven in every fabric of his being; making each and every waking part of his life dedicated to helping the helpless, to God and to the children.
As a young man living in a nation of heroes, it comes as to no surprise that the life that Johanson embraced is not short of being heroic. To be a hero these days means to be alive to do one's share in improving the plight of the helpless, the children, the disabled.
There is a hero in every one of us. And in his quiet, little way, Johanson Dy Cheng has personfied heroism when he chose to seize the opportunity to realize a social mssion, to be part of the solution and accept the challenge to serve others the best way he can.
Johanson Dy Cheng – Founder of EntrepNegosyo PH and Emarket.com.ph
Member of Golden heart
Junior Chamber International of Manila, Inc.
Tel No. (02)525-6792 Fax No. (02)525-2631
Email : entrepmarket@gmail.com